via Übergizmo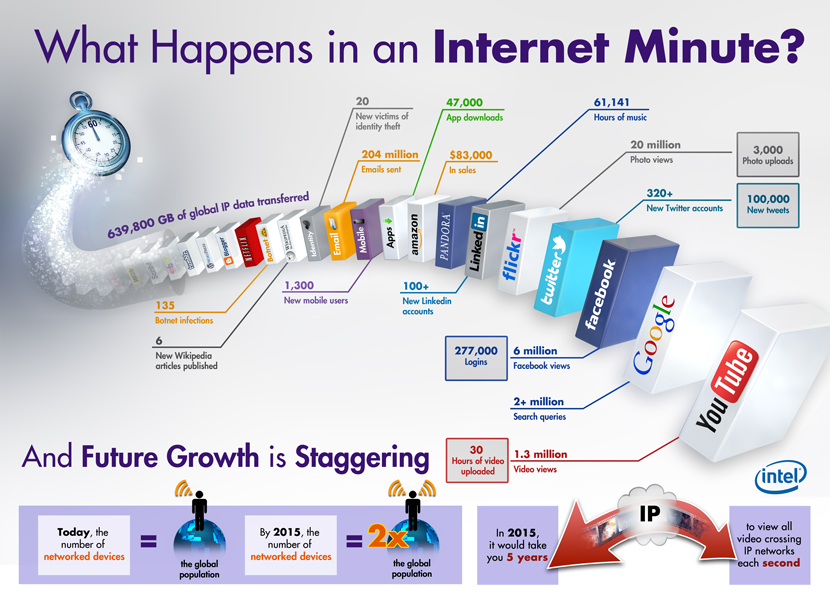 via Education Technology and Mobile Learning
Every single teacher is concerned about his/ her teaching practices and the skills involved in this process. How many times have you wondered about a better way to teach the same lesson you have delivered to an eariler class? How often have you used technology to engage your students and improve their learning ? These are some recurring questions we keep regurgitating each time our teaching skills are put to the test.
It is amazing how technology has changed the whole world giving rise to new forms of education we never thought of. Our students are more digitally focused than any time before. They spend more time interacting with their mobile devices than they do with their parents or close relatives. Admittedly, this digital boom has both  positive and negative impact on our students. Lack of concentration, short attention span, distraction, visual  stimulus overload, identity theft, lack of real world socializing, privacy issues, depression, and many more are but a direct result of the growing exposure to this technology. Studies have even proved that multitasking, which some educational technology experts brag about in relation to the use of today's technology, reduces the power of our concentration to the half.  We should not, However, only look at the empty side of the cup, the other side is way bigger.
There are  actually several pluses for the use of technology in education and to try and list them  all here is way beyond the scope of this short post. Generally speaking,  no two argue over the fact that technology advantages in education ( and in our life at large ) way  outnumber  its downsides. It is thanks to technology that you are now reading this post and will probably share it with your colleagues.
Please, remember that I have spent many laborious hours working on  this post and all I ask is a credit back to Educational Technology and Mobile Learning when re-using this content somewhere else.
The 21st century teacher should be able to :
1- Create and edit  digital audio

Here are some tools for teachers to develop this skill :
Free Audio Tools for Teachers
2- Use Social bookmarking to share resources with and between learners

Here are some tools for teachers to develop this skill :
A List of Best Bookmarking Websites for Teachers
3- Use blogs and wikis to create online platforms for students

Here are some tools for teachers to develop this skill :
Great Tools to Create Protected Blogs and Webpages for your Class
4- Exploit digital images for classroom use

Here are some tools for teachers to develop this skill :
5- Use video content to engage students

Here are some tools for teachers to develop this skill :
6- Use infographics to visually stimulate students

Here are some tools for teachers to develop this skill :
7- Use Social networking sites to connect with colleagues and grow professionally
Here are some tools for teachers to develop this skill :
8- Create and deliver asynchronous presentations and training sessions

Here are some tools for teachers to develop this skill :
A List of The Best Presentation Tools for Teachers
9- Compile a digital e-portfolio for their own development

Here are some tools for teachers to develop this skill :
Free Tools to Create Digital Portfolios 
10- Have a knowledge about online security

Here are some tools for teachers to develop this skill :
11- be able to detect plagiarized works in students assignments

Here are some tools for teachers to develop this skill :
Free Plagiarism Detector Tools fr Teachers and Educators
12- Create screen capture videos and tutorials

Here are some tools for teachers to develop this skill :
Five Great Screen Capture Tools for Teachers
13- Curate web content for classroom learning

Here are some tools for teachers to develop this skill :
10 Must have Bookmarklets for Teachers
14- Use and provide students with task management tools to organize their work and plan their learning
Here are some tools for teachers to develop this skill :
A List of Great Task Management Tools for Educators
15- Use polling software to create a real-time survey in class

Here are some tools for teachers to develop this skill :
15 Free and Easy Poll/ Survey Tools for Teachers
16- Understand issues related to copyright and fair use of online materials
Here are some tools for teachers to develop this skill :
17- Exploit  computer games for pedagogical purposes
Here are some tools for teachers to develop this skill :
18- Use digital assessment tools to create quizzes

Here are some tools for teachers to develop this skill :
Free Tools to Create and Administer Quizzes
19- Use of collaborative tools for text construction and editing

Here are some tools for teachers to develop this skill :
A List of Great Free Collaborative Tools for Educators
20- Find and evaluate authentic web based content

Here are some tools for teachers to develop this skill :
The Three Effective Ways Teachers Should Know about
21- Use of mobile devices like tablets

Here are some tools for teachers to develop this skill :
22- Identify online resources that are safe for students browsing

Here are some tools for teachers to develop this skill :
A List of Awesome Kids-safe Websites
23- Use digital tools for time management purposes

Here are some tools for teachers to develop this skill :
24- Learn about the different ways to use YouTube in your classroom

Here are some tools for teachers to develop this skill :
25- Use note taking tools to share interesting content with your students

Here are some tools for teachers to develop this skill :
26- Annotate web pages and highlight parts of text to share with your class

Here are some tools for teachers to develop this skill :
13 Free Web Annotation Tools for Teachers to Draw, Add notes, and highlight interesting parts in webpages
27- Use of online graphic organizers and printables

Here are some tools for teachers to develop this skill :
A List of Free Graphic Organizers for Educators
28- Use of online sticky notes to capture interesting ideas

Here are some tools for teachers to develop this skill :
13 Free Sticky Notes Tools for Teachers and Students
29- Use of screen casting tools to create and share tutorials

Here are some tools for teachers to develop this skill :
A List of The Best Free Screen Casting Tools for Teachers to Record and Share Tutorials
30- Exploit group text messaging tools for collaborative project work

Here are some tools for teachers to develop this skill :
9 Free Group Text Messaging for Educators
31- Conduct an effective search query with the minimum time possible

Here are some tools for teachers to develop this skill :
The Entire Google Search Guide for Teachers
32- Conduct A Research Paper Using Digital Tools

Here are some tools for teachers to develop this skill :
33- Use file sharing tools to share docs and files with students online

A List of The Best File Sharing Tools for Teachers
Technology and education are pretty intertwined these days and nearly every teacher has a few favorite tech tools that make doing his or her job and connecting with students a little bit easier and more fun for all involved.
Yet as with anything related to technology, new tools are hitting the market constantly and older ones rising to prominence, broadening their scope, or just adding new features that make them better matches for education, which can make it hard to keep up with the newest and most useful tools even for the most tech-savvy teachers.
Here, we've compiled a list of some of the tech tools, including some that are becoming increasingly popular and widely used, that should be part of any teacher's tech tool arsenal this year, whether for their own personal use or as educational aids in the classroom.
Social Learning
These tools use the power of social media to help students learn and teachers connect.
Learning
These educational tools can help you to make lessons fun, interesting, and more effective.
Lesson Planning and Tools
Use these tech tools to pull together great lessons and design amazing and memorable student projects.
Useful Tools
These tools can help you to stay connected, organized, and increase the ease of building multimedia lessons and learning tools.
This is amazing considering the number of people who really don't allow the use of smart or any type of phone in their school or classroom. Elliott and Cathy ahve been writing about mobile devices and "Big change for small change" since 2000!!! Lisa Nielsen has been also writing about the use of cell phones and all of them will tell you that cell phones are still an uphill battle to use in schools. Tablets or iPads are becoming more prevalent and more accepted but phones are still not where they need to be. I hope that they will be soon as our children's futures are at stake!!!!
With an increasing number of social networks and technologies commanding more and more of our students' time and attention, are we too far gone to successfully integrate smartphones and mobile technologies into classroom learning?
"Originally this was going to be a panel discussion about the Pros and Cons of cellphones in classroom," acknowledged Therese Mageau, editorial director of T.H.E. Journal, at the FETC 2013 conference in Orlando, Wednesday, "but I couldn't get enough people to be on the 'cons' side of it." It was an interesting revelation that didn't appear to surprise many in the audience.
"Instead," she said, we're going to collaboratively take on the top concerns received over the course of the year by THE Journal around the use of cellphones in the classroom. The idea, said Mageau, is to come up with some "acceptable, responsible use guidelines, policies, and practices that you can take back to your schools and districts" and talk to others that share these concerns.
Along the walls of the meeting room were 10 sheets of paper, each with a different issue or point of discussion, distilled from the hundreds of concerns Mageau received throughout the year:
Texting (as a distraction)
Social media (as a distraction)
Sexting
Cheating
Student device equity
Bullying
Lost or stolen devices
Safety during lockdown
Teacher device equity
Platform management
The audience was divided into groups and assigned a single issue to collaboratively address. "I don't want this to be official language," instructed Mageau. "I want this to be creative output from you about how we deal with these issues in the classroom." Discussion was facilitated by Elliott Soloway and Cathie Norris (who recently started blogging for T.H.E. Journal), and results were recorded on a Google document and shared with the larger group for feedback.
Texting
Educators addressing the issue of texting as a distraction all seemed to agree that requirements around responsible use were paramount to addressing this concern. "We need to make sure students are adhering to policies, including no social texting in the class, or risk losing their individual privileges," commented the group's spokesperson.
Social Media
With multiple social media platforms available for use, the group focused on this concern felt it imperative that only schools-based social media sites were used, and that students were not allowed to self-enroll. "Students will register as someone else if you give them the opportunity," said one educator in the group. "You have to be sure you can verify an online identity is valid." Others in the group recommended only allowing social media when it is an integrated component of a lesson.
Sexting
According to the group spokesperson, this issues boils down to communicating clearly and repeatedly what constitutes appropriate use of a cellphone, its camera, and the sharing of data of any kind. For middle and high school students, appropriate behaviors should be integrated into the curriculum and consequences for violating the policies should fit the individual action.
Cheating
This one, according to the group, is pretty straightforward: Students should not use devices in class unless given explicit permission. If they violate this rule, their devices are confiscated.
Student Device Equity
The teachers addressing device equity proposed several creative solutions, including working with local carriers to provide devices for low-income students, seeking grant opportunities from various agencies, pairing students without a device with those who have one, and providing access to alternate mobile technology such as iPads and iPods.
Bullying
Similar to concerns around sexting, cyber bullying was seen as best addressed through effective education and communication, coupled with a policy that held students accountable for their actions and involved all parents from the outset.
Lost/Stolen Devices
The way to best address this concern, according to the group, is for total responsibility for the device to rest with the student. Lost or Stolen devices will be reported immediately, and teachers will be required to model acceptable use and care, but it should ultimately be the responsibility of the student to manage and care for their devices.
Safety During Lockdown
Educators in this group all agreed that cell phone use during lockdown should be strictly prohibited and any infraction dealt with immediately.
Teacher Device Equity
"If the expectation is for the use of these devices in the classroom," said this group's spokesperson, "then it should be the responsibility of the school to provide devices to teachers who don't currently have that technology." The group also noted the importance of strong professional development resources, especially in cases where teachers are not already familiar with the technology.
Platform Management
The discussion around platform management raised as many questions as it did answers. Overall, the group agreed that integration of cellphones in the classroom should be device agnostic, include appropriate infrastructure before implementation, have a solid communications plan for all stakeholders, and provide appropriate tech support resources specifically trained to address issues associated with mobile devices.
"So what I think we're saying," commented Soloway at the close of the session, is that most of this boils down to classroom management, and recognizing that it's less about the device and more about modeling appropriate use.
"This is certainly more demanding," he said. "But teachers are seeing benefits, and some are instantaneous."
Figuring all this out "takes time," said Mageau, but there is a benefit. And in many cases, the group agreed, the benefits far outweigh the extra effort.
Every educator wants to create an environment that will foster students' love of learning. Because the criteria are intangible, it's difficult to define or pinpoint exactly what they are. But one group is giving it a try.
Researchers at the Organization for Economic Cooperation and Development (OECD) launched the Innovative Learning Environments project to turn an academic lens on the project of identifying concrete traits that mark innovative learning environments. They sifted through and categorized the research on learning science, documented case studies, and compiled policy recommendations they hope will transform the current system.
Their book, The Nature of Learning: Using Research to Inspire Practice and the accompanying practitioner's guide, lay out the key principles for designing learning environments that will help students build skills useful in a world where jobs are increasingly information and knowledge-based. The principles are not job-specific – no one knows what the future economy will demand. Instead, the main goal is to develop self-directed learners, students with "adaptive expertise."
"Adaptive expertise tries to push beyond the idea of mastery," said Jennifer Groff, an educational engineer and co-founder of the Center for Curriculum Redesign. "You may be proficient, but without adaptive expertise you can get stuck very quickly as the world shifts."
Groff doesn't dispute that mastery is important and that students need to learn age-appropriate content, but she also argues it's equally important to develop students' ability to go beyond that, to question and apply learning in new situations.
To that end, these are their identified principles for innovative learning.
1.Learners have to be at the center of what happens in the classroom with activities focused on their cognition and growth. They have to actively engage in learning in order to become self-regulated learners who are able to control their emotions and motivations during the study process, set goals, and monitor their own learning process.
2. Learning is a social practice and can't happen alone. "By our nature we are social beings and we learn by interacting," Groff said. "We learn by pushing and pulling on concepts with one another." Structured, collaborative group work can be good for all learners; it pushes people in different ways.
3. Emotions are an integral part of learning. Students understand ideas better when there's interplay between emotions, motivation and cognition, so positive beliefs about oneself are a core part of reaching a more profound understanding. The power of emotions and motivation in the classroom are well documented, but often overlooked because they are "soft." Still most teachers know that if a student is upset about something that happened at home or in school, he won't learn well. Similarly, keeping students motivated should be the starting point of learning. If students understand why it matters, learning becomes more important to them.
4. Learners are different and innovative learning environments reflect the various experiences and prior knowledge that each student brings to class. "You really want practices and processes that help teachers engage each student where they are," said Groff. This principle is understood by every frustrated educator teaching to a "middle" that doesn't exist.
5. Students need to be stretched, but not too much. "It's really critical to find that student's sweet spot," Groff Said. Educators should try to prevent both coasting and overloading. Students need to experience both academic success and the challenge of discovery. In a diverse classroom group work can help achieve this as students at different levels help one another.
6. Assessment should be for learning, not of learning. Assessments are important, but only to gauge how to structure the next lesson for maximum effectiveness. It should be meaningful, substantial, and shape the learning environment itself. "Good teachers do this informally most of the time," Groff said. "But when it's done well and more formally it's a whole structure and methodology where you collect feedback on the learning pathway and it drives the next step that you take."
7. Learning needs to be connected across disciplines and reach out into the real world. Learning can't be meaningful if students don't understand why the knowledge will be useful to them, how it can be applied in life. Understanding the connections between subjects and ideas is essential for the ability to transfer skills and adapt. "We can't just have things remain in silos that never interact," Groff said.
IMPLEMENTING THE PRINCIPLES
Many of the seven principles Groff outlines are second nature to good teachers, but they can feel hard to achieve within education systems that are slow-moving, bureaucratic and resistant to change. Still Groff says there are ways for teachers who want to create an innovative learning environment to begin down the path, even without the full support of their colleagues and administration. Groff also hopes shifting to the Common Core could offer openings for building in these practices. "It's designed in a way that condones a lot of the principles that we've been talking about," she said.
Everyone knows the common barriers educators face: the school culture, the students and themselves. Groff says with some reflection and problem solving, teachers can often begin to work around these barriers. An educator might think she's open to innovation without realizing that there are preconceived notions about how one should teach that are deeply ingrained.
What's more, if the school culture does not encourage experimentation, educators can mitigate negative reaction by framing the ideas in a way that will be accepted, or by bringing in outside resources to try and convince naysayers. Even finding one colleague in or outside of the school to bounce ideas with can make the process much smoother.
Educators can also test ideas with students before implementing them. Students have been indoctrinated into the same educational mindset about what makes a "useful" education as everyone else, and some might be resistant to new teaching methodologies. Without their enthusiasm it can be hard to persevere through other obstacles.
CASE STUDY
The darling of the Innovative Learning Environment case studies is the Jenaplan School in Germany. It's one of the few schools embodying all the principles fluidly. The school has about 450 students that range three to 20 years old. Students aren't broken up into grade levels, instead they learn in mixed-age groups as well as in groups of roughly the same age. Learning is directed by students, often project-based, evaluated primarily through writing and projects, self-assessments and peer-assessment. The schedule is periodic, focusing on a topic like geography or history for three to four weeks and crossing into multiple disciplines. The teacher is seen as an active mentor and coordinator and the school has active parental involvement.
The Jenaplan School has won awards for its model and in the eyes of the Innovative Learning Environment researchers is doing an excellent job at preparing students to be adaptive and nimble thinkers in a knowledge-based world.
"One-size-fits-all" is a description for a product that would fit in all instances. The term has been extended to mean one style or procedure would fit in all related applications. There are both positive and negative uses of the phrase. It's a term that is often applied to staff development—the problem is that, according to Peter DeWitt in the following EdWeek article, this philosophy doesn't work for educators. Check out to my post a few months ago where I actually attempted to describe the differences between, Professional Exposure, Professional Development and Professional Improvement…."
http://jeffpiontek.com/2012/03/14/teacher-professional-development-my-take-on-teacher-improvement-and-professional-development-what-do-you-think/
Professional Development is not defined by what someone else provides for us.
Twitter is creating a natural shift in professional thinking for connected educators and administrators. They are finding their own professional development (PD) through their Professional Learning Networks (PLN). There are other educators who don't use Twitter but they research new and improved ways of meeting the needs of their students. Unfortunately though, there are others who wait for their school district to offer it to them.
All in all, whose job is it to offer professional development?
One-size-fits-all professional development does not work for educators. Sure, it gets them on the same page and can offer them base knowledge but its human nature for some teachers and principals to do their own professional development while others wait around for districts to offer something. One-size-fits-all PD leaves the best educators bored because they know most of the information already. With the Common Core State Standards, APPR and other accountability measures popping up, the need for PD is happening at a quicker rate than most districts can keep up with.
Add in budget cuts, and the possibility of getting high quality PD is becoming harder and harder and it becomes more of a drive-by session for staff than it is anything they can truly use in the classroom. Too often when PD is offered as a drive-by it becomes so quick and reckless that teachers walk away with more questions than answers.
How can school districts change the way they offer PD?
It's not easy to change the way PD has been offered over the past few decades but it should be. It requires a shift in thinking on the part of district administration, building level leaders and the teachers within the school. Over the years in an effort to make sure school buildings were not their own islands some districts worked hard to create curriculum teams by grade level across the district. Now because of time and money those teams do not often get a chance to meet.
It's time for the district and buildings to work together with teachers to design a better way of offering PD. In Unmistakable Impact (2011) Jim Knight wrote, "Educators, like everyone else, can be blissfully unaware of their own need to improve." In addition to Knight's insight, I believe that administrators can be equally unaware of how to offer PD to help teachers improve.
Jim Knight believes in a Partnership approach to professional development. The partnership approach is expressed in "several simple principles":
• Equality - It's not top-down. All stakeholders decide together
• Choice - Teachers should have a choice in what they are learning.
• Voice - "Professional learning should empower and respect the voices of teachers. (p.35)"
• Reflection - Great educators reflect on their practice but they also reflect on how they can improve. Reflection takes time.
Sure, it gets them on the same page … but its human nature for some teachers and principals to do their own professional development while others wait around for districts to offer something.
• Dialogue - Knight says that professional learning takes authentic dialogue. He's right. PD is not about top-down initiatives but it involves conversations about what is working and what is not. Teachers need to feel as though they can share their opinions (We should just all remember that our students and parents deserve the same consideration in the classroom).
• Praxis - "Teachers should apply their learning to their real-life practice as they are learning" (p.42). Is this helping meet the social-emotional and academic needs of students?
• Reciprocity - Everyone should be taking the time to learn. Knight says, "We should expect to get as much as we give." If teachers or administrators are waiting for someone else to give them what they need where PD is concerned, then they should not always be surprised what they get. Professional learning and PD are about what educators learn at conferences, in conversations at common planning times and what they find on their own. Professional Development is not defined by what someone else provides for us.
Knight says, "Clearly, complete freedom is not the solution. Total choice, without structure, would likely lead to total, unproductive chaos." Many times administration believe they have the best ideas in order to help educators move forward and learn. When they decide the PD without teacher input, they are neglecting one important aspect of leadership, and one very big fatal flaw. Without including those getting the PD in the decision, administrators are not engaging their audience from the beginning and they are doing PD to teachers and telling them what they should learn.
The reality is that PD is not all about the district office offering PD, and there are many teachers who are waiting for administration to "just tell them what to do," as their colleagues follow the road to self-discovery and find their own. Educators, including administrators, are all supposed to be lifelong learners. Whether they like it or not they have agreed to keep learning through their whole career. Time, will always be an issue. Even in the best districts, that offer common planning times and have set aside some time for professional learning, teachers are feeling the black cloud of accountability over them. PD needs to offer some breathing room and time for reflection.
It takes a partnership between the district office, building administration and teaching staff to create the best PD opportunities and they have a variety of venues to keep the professional learning going.
Venues:
• Faculty meetings - FM's should not be about principals leading lists of things that need to be done every month. This is not an easy concept to get away from because it's the "easy" thing to do. However, faculty meetings should be about professional conversations. This is a difficult concept for teachers as well. Sometimes they are so fried from the day they want to sit back and listen.
• PAC - Principal's Advisory Councils should be in every school. They involve stakeholders from each grade, special area, special education area and support staff. They are the perfect place to discuss what teachers and students need and should not always be about what is going wrong in the building.
• EdCamps - It's a concept that is catching on. No keynote speakers are involved and should be one large sharing best practices session.
• Professional Development days - If schools aren't going to be teaching students on these days they should make sure they are as worthwhile as possible. How do school districts do that? Read Jim Knight's book and refer to the above blog.
Resource:
Knight, Jim (2011) Unmistakable Impact: A Partnership Approach for Dramatically Improving Instruction. Corwin Press.
Everyone's an influencer. The consumer is out for himself (not for you). Optimize content. It's an organism, not a process. Think past vanity metrics (like followers). Update your Facebook Page… or delete it.
Good advice, right? As much as it frustrates marketers, the business of social media is as much an art as it is a science, but there are some tried and tested rules and guidelines that justwork. And brands, new and old, need to pay attention.
Fast Company asked some of social media's savviest users about their best practices, many of which were delivered in bite-sized, tweetable chunks. The finest suggestions have been documented in this infographic, which is a useful, one-stop, printable guide to best practices for brands using social media.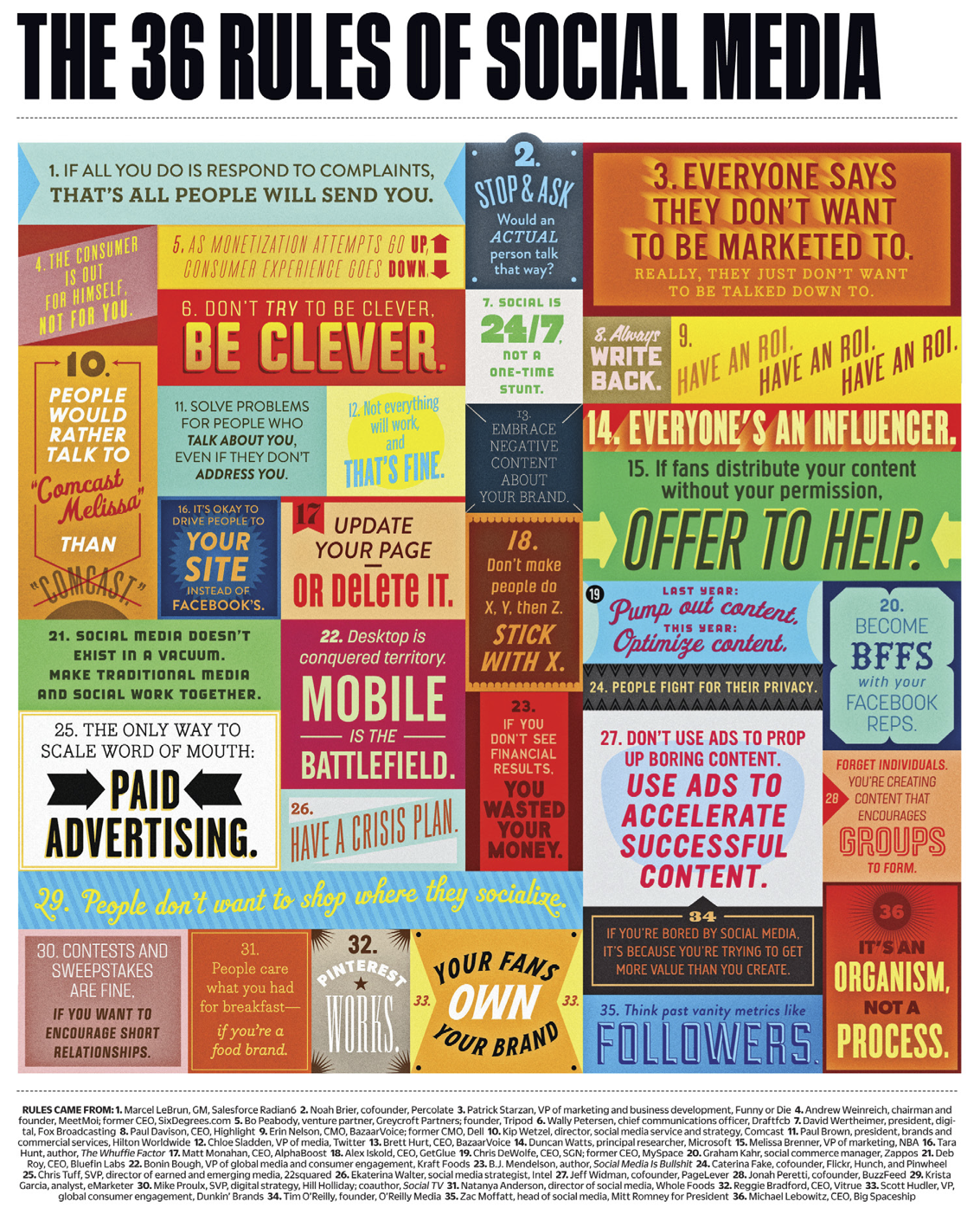 A few months ago I spoke at an event that Steve Wozniak also spoke at. As you can imagine, when it was time for Steve's session, it was jam-packed. Packed with attendees, vendors and all the other speakers.
As I sat there and listened to Steve poignantly share the story of Apple and his relationship with Steve Jobs, I was enthralled. He started from their middle school years and went right up until the present, after Steve Jobs' passing.
It seemed like he did not leave out a single detail. He just talked. There was no power point presentation, there were not even note cards — he just told his story from his heart.
What struck me the most was not Steve Wozniak's extreme brilliance or his exuberant passion.
No, what struck me the most was his overwhelming sense of gratitude. His gratitude for having the opportunity to make the world a better place. To help us all to be able to communicate with loved ones, to run our businesses better and to have an enhanced life.
That evening I had the opportunity to sit with Steve at dinner. This was one of the smartest individuals I have ever met, and he was literally thanking all of us at the dinner table for allowing him to create some of the best technology in the world.
This experience prompted me to go back and examine a chart I created a year ago about the characteristic traits of successful people vs. those of unsuccessful people.
I have enhanced that chart and added traits that I believe to be some of the most important because nothing in life is satanic.
This chart was inspired and composed after meeting and working with some of the smartest, most successful entrepreneurs in the world, many of who are dear friends.
The following is that chart I compiled of characteristics, traits and behaviors of successful people vs. unsuccessful people.
Drum roll please . . .
The Success Factor Indicator
Successful People
Have a sense of gratitude
Forgive others
Accept responsibility for their failures
Compliment
Read everyday
Keep a journal
Talk about ideas
Want others to succeed
Share information and data
Keep a "to-be" list
Exude joy
Keep a "to-do/project" list
Set goals and develop life plans
Embrace change
Give other people credit for their victories
Operate from a transformational perspective
Unsuccessful People
Have a sense of entitlement
Hold a grudge
Blame others for their failures
Criticize
Watch TV everyday
Say they keep a journal but really don't
Talk about people
Secretly hope others fail
Horde information and data
Don't know what they want to be
Exude anger
Fly by their seat of their pants
Never set goals
Think they know it all
Fear change
Take all the credit of their victories
Operate from a transactional perspective
If you are ready kick up the success meter a bit, make a conscious effort to eliminate the traits on the right hand side of the chart above.
Hey, none of us is perfect but as long as we recognize and identify where we need to improve and continually strive to get there — greater success will follow.
This is a great site that I found online and wanted to share it with my readers. They have PHENOMENAL resources for a teacher and students. You can check their resources at http://www.educatorstechnology.com/ or by clicking on the
link
.
There is an app for everything these days. From health apps to travel apps, iTunes market is teeming with all kinds of apps. It only takes one click in a search engine to find what you want but as we always say not every app can do what its developers preach , you need to have a critical eye to evaluate the apps that will work for you. As teachers and educators, we are in a constant search for apps to use with our students and this is why we need to make sure we have recourse to checklists such as
this one
whenever we are to recommend apps.
Educational Technology and Mobile Learning
has even made it way easier for teachers to pick the apps they want from some pre-made lists of apps organized according to each subject area. You can check them
HERE
.
In today's post , we are providing you with a list of great games designed to improve your students critical thinking and creative powers.Check them out below and don't forget to check the list we have posted before on
iPad  Apps to Develop Kids Critical Thinking
.
1-
Feed the Head
 " The iPad adaptation of our classic surrealist toy! Poke the Head. Prod the Head. Tug the Head… but most importantly, Feed the Head. Like a living cartoon, the Head will unfold and transform in surprising, startling, and hilarious ways."
 "Where's My Water? is a challenging physics-based puzzler complete with vibrant graphics, intuitive controls, and a sensational soundtrack. To be successful, you need to be clever and keep an eye out for algae, toxic ooze, triggers, and traps. "
3- RoomBreak
"Room Break is an adventure game about escaping.The purpose of this game is simple.Users will be detained to certain places and situations and they need to open the door of each room and escape."
 "Mobigame, the team behind the multiple award winning EDGE for iPhone and iPod touch, returns in full force with Cross Fingers, a unique game which challenges you to combine solid pieces in a gigantic tangram puzzle"
5- Doodle Fit
 "The task in Doodle Fit is simple: fit the given sets of blocks into the given shapes. Drag the blocks into positions in search for the layout that covers the whole shape. A level is complete when all blocks have been used and there is no more space free in the shape.."
6- Jelly Car
"JellyCar is a driving/platforming game for both iPhone and iPod touch. The game is about driving a squishy car through squishy worlds, trying to reach the exit. JellyCar features soft body physics for all of the objects in the world. Also your car can transform for a limited time to aid progression through the level "7-
Geared for iPad
 "Geared is a radically new and innovative puzzle game; a unique addition to its genre. The first and only Gear-based game with absolutely no snap-grid. Geared delivers complete and total freedom to the player, bestowing every puzzle with a near infinite array of choices. "
 "7 Little Words is FUN, CHALLENGING, and EASY TO LEARN. We guarantee you've never played anything like it before. Give 7 Little Words a try today!"