Hardly a week has gone by in the last year when educators have not been bombarded by news articles, blog posts, or invitations to attend webinars and conferences focused on the flipped classroom. Flipping has become a hot topic among both educators and school leaders. But there are some legitimate concerns. A major one is the rationale for selecting the flipped method in the first place, which might displace other valuable, technology-based instructional strategies.
A flipped lesson incorporates viewing instructional videos for homework. It's not the use of video that might make educators skeptical of this strategy, but how and where it is used in instruction and its effect on learners as homework.
Although an instructional video can be a valuable tool, is this current focus on the flip being made at the expense of other technologies that should play a role in instruction? Certainly, if educators are going to create videos for learning, they can't just "wing-it and post-it" and assume learners will be engaged. If you are skeptical and unsure about trying flipped instruction, particularly for mathematics, the following questions and considerations for the design of instruction involving video might help you decide and avoid a flip-flop.
Initial Questions
Over the last 30 years, many instructional strategies have been introduced aimed at increasing mathematics achievement. "Individualized instruction, cooperative learning, direct instruction, inquiry, scaffolding, computer-assisted instruction, and problem solving" are among those, according to NCTM's President Linda Gojak (2012, para. 1). Whenever a different strategy comes along, educators wonder about its potential, including for the latest addition–the flipped classroom.
How does flipping work?
A typical cycle might occur over two days. On the first day learners begin their exploration of concepts via an activity that builds on prior knowledge.  They would view instructional video that night for homework, which replaces the traditional in-class lecture.  The video may or may not involve interactivity.  Learners might complete a reflective activity as proof of viewing it.  On day 2, discussion ensues so that they get their additional questions answered.  Learners then engage in activities for applying their knowledge, working on problem sets from learning packets. They might complete those for day 2 homework and also prepare for an assessment the following day (Saltman, 2011).
An instructional video has advantages, such as the ability to pause and repeat; but but it has disadvantages as well: An instructional video is a lecture, just a different form of "sage on the stage." It is not by itself learner-centered. And unlike a face-to-face lecture, which might also inspire and be meaningful to learners, it has an additional disadvantage in that learners do not necessarily get their immediate questions answered by a pause and repeat. Learners need interactivity and engagement. Proponents know that. Indeed, Jon Bergmann (2012) views "flipped learning as a transitional pedagogy/technique. We are transitioning from the old industrial model of education to the learner centered, active class of the future" (para. 3). Actually, educators should have made that learner-centered transition well before flipping became the hot topic.
It's not the use of video that might make educators skeptical of this strategy, but how and where it is used in instruction and its effect on learners as homework.
An initial question often surrounds access to appropriate technology for viewing video outside of class time. There's something to be said for needing one-to-one and BYOD initiatives in connection to success of a flipped class. Even with Internet access at home, what do you tell a family that has only one computer, more than one child, each of whom might have more than one video to view for homework, resulting in lack of time and frustration for each to complete it? Proponents say there are solutions, such as using school computers before or after school, or during the school day in a study hall. Even that has limitations considering that the only transportation to and from school for many is the scheduled school bus. Giving more time during a week to complete viewing the videos is not a complete solution, as without the video lecture there's a huge gap in learning to fill at day 2 in a flipped class cycle.
Would it be appropriate for all to use instructional video as homework?
The type and amount of homework to assign at each grade level and whether or not to grade it has also been problematic. Consider the extent of diversity among learners, including their varied learning and thinking styles. As they also vary in mathematical maturity (Morsund & Ricketts, 2012), math educators would be particularly interested in the potential for increase in math anxiety from digging into video content alone and the degree to which learners will accept the challenge.
How often and under what circumstances should the method be used? Not all educators have found success in their implementations. There have been learners themselves who rejected the flipped classroom, preferring a traditional approach. Bergmann (2012) indicated that for lower grades, the method might only be appropriate for selected lessons. Shouldn't this selectivity be considered for all grades?
Certainly, a video must convey more than what can be read in a traditional textbook. If all learners had Internet access outside of class time, why would educators want to focus on instructional video for homework? There is a wealth of digital content for teaching and learning mathematics. Types include tutorials, skill builders with drill and practice, comprehensive courseware, test prep, problem-solving challenges, simulations and visualization tools, and serious educational games (Schneiderman, 2006). Some of those offer global challenges with other learners. Add Web 2.0 tools for collaboration. This does not mean that those who flip would not use them, however.
Given limited time for professional development and so many technology options for instruction, educators might also ask where their technology integration priorities should lie. Two years ago, I commented on the need to ensure learners gain expertise using technologies that will be included in upcoming online Common Core assessments. Gray and colleagues found relatively low percentages for technology use in classrooms for such activities (Deubel, 2010). As math homework often involves using paper/pencil to complete problems independently, would this be the best use of time in a flipped class in light of this need to expand technology use? Or, would digital resources be available for such practice, which also track progress?
What evidence is there that the method is effective and leads to student achievement? An entire school has adopted the model owing to data from piloting it, which indicated fewer failures, better discipline, increase in homework completion, and more students reaching proficiency (Saltman, 2011). As everything educators do should lead to achievement, results from a 2010 national online survey by PBS & Grunwald Associates might make one wonder about the longevity of a method that features video. Over 1,400 preK-12 teachers participated. Although 82 percent believed video content is more effec­tive when it is integrated with other instructional resources or content, less than half believed video content directly increases student achievement (42 percent) and is more effective than other types of instructional resources or content (31 percent).
With a new generation of teachers coming into the work force, there's a discrepancy between what principals expect of teachers-in-training and what they're actually learning in school.
A new Project Tomorrow report surveying principals concluded that they want to hire new teachers with creative ideas about how technology can be leveraged to create authentic and differentiated learning experiences. But student-teachers report that their tech training focuses only on simple management tools. At the same time, the report concludes that those who have the biggest influence on new teachers — veteran educators –  don't always embrace new ways of using technology to engage students.
Only half of current working teachers believe they can use technology to motivate students to learn, compared to 75 percent of incoming teachers. Only 17 percent of current teachers believe technology can help students deeply explore their own ideas, compared to 59 percent of incoming teachers. And 26 percent of current teachers believe students can use technology to apply knowledge to problem-solving, compared to 64 percent of aspiring teachers.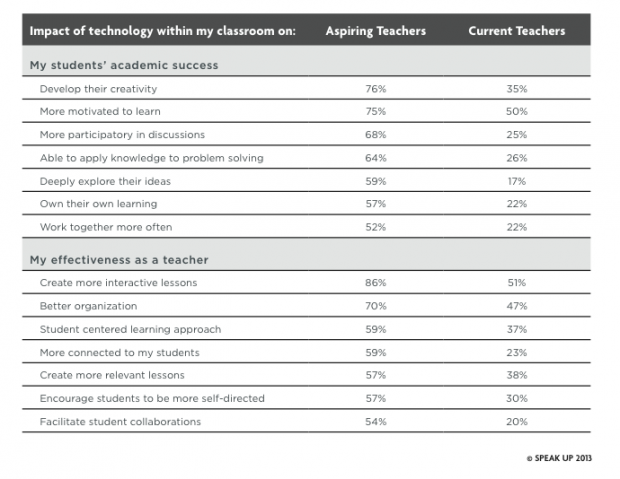 Teachers-in-training say coursework focuses on technologies that help a teacher stay organized, rather than ways to engage students. In their methods courses, where teachers learn the mechanics of running a classroom, 71 percent report that they're taught to use simple word processing, spreadsheets and database tools, 64 percent report learning how to create multimedia presentations and 55 percent say they've learned how to use interactive whiteboards.
Incoming teachers use tech fluidly in their own lives, but they're learning to teach within a system that lags behind the times.
"Principals want new teachers to know how to use technology to create authentic learning experiences for students (75 percent) and how to leverage technology to differentiate instruction (68 percent) before they apply for a position at their school," the report said.
Additionally, principals hope new hires will use social media to connect and communicate with students and parents, as well as their ability to integrate mobile devices, social media, and other digital instruction into their daily teaching. Principals also recognize that a move towards self-directed learning means that new teachers will have to have strong classroom management skills. Almost half of principals surveyed said incoming teachers should have the ability to manage a classroom where students are using their own mobile devices and 25 percent would like teachers to know how to teach an online class.
EXPECTATION VS. REALITY
But there's a disparity between what principals expect from new hires and what teachers-in-training are learning. A full 72 percent of pre-service teachers report they think they're being well-prepared to use technology in the classroom. That may be because this is a generation of teachers who grew up using technology — 61 percent use smartphones, preferring them for daily tasks. They are also much more likely to use social media, online discussion boards and other Internet tools to enhance and direct their professional development.
These incoming teachers appear to be caught between generations. They use technology fluidly in their own lives and to enhance their education, but they're learning to teach within a system that lags behind the times. Sixty-eight percent of teachers-in-training report they rely most heavily on field placements to learn about how to integrate technology into the classroom. They also watch their professors and take advice from peers.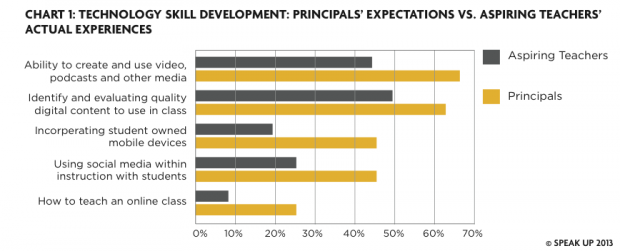 There was a similar disconnect on metrics about how technology can improve the way educators teach. Teachers-in-training thought technology could help them be more organized, create more interactive lessons, make learning student-centered and would encourage students to be more self-directed, while experienced teachers were much less enthusiastic.
The report attributes the optimism to two main factors. One, teachers-in-training grew up with technology and aren't afraid to figure out how to make it work in class. They're also more comfortable looking for resources online and using social media to collaborate with peers. Secondly, as they were growing up they witnessed attempts at technology integration from their own teachers and they have a sense of what works and what doesn't.
The folks from uptime monitoring company Royal Pingdom have assembled a gargantuan list of various internet-related stats from 2012, and it's a very interesting read.
Though we've seen nearly all of these numbers before — for example, we covered Facebook passing 1 billion users in October as well as Twitter's 200 million in December — seeing them all in one place reminds you of how small and insignificant we are in the vast ocean of data that is the internet.
Highlights from the list include 2.2 billion email users worldwide (425 million use Gmail, making it the biggest email service around), 634 million websites (with 51 million being added to the web every year) and 246 million domain name registrations in 2012.
There were 100 million .com domain names (remember the first one, registered in 1985?), 2.4 billion internet users worldwide, and 1.2 trillion searches on Google in 2012.
On the social media front, in 2012 there were 2.7 billion likes on Facebook every day, 175 million tweets were sent on Twitter every day, while Google's +1 button was used a whopping 5 billion times per day.
Finally, there were 1.3 billion smartphones in use worldwide by the end of 2012, 4 billion hours of video was being watched on YouTube monthly and a flabbergasting 7 petabytes of photos were added to Facebook every month.
Head over to Royal Pingdom to see the rest of the stats and tell us your estimates of what these numbers will look like at the end of 2013 in the comments!
Augmented reality is exactly what the name implies — a medium through which the known world fuses with current technology to create a uniquely blended interactive experience. While still more or less a nascent entity in the frequently Luddite education industry, more and more teachers, researchers, and developers contribute their ideas and inventions towards the cause of more interactive learning environments. Many of these result in some of the most creative, engaging experiences imaginable, and as adherence grows, so too will students of all ages.
ISTE MODEL LESSON
ready-to-go mini lesson
LESSON 3
"Flipped Discussion" Method
Time: 15 minutes as follows:
3-4 minutes demo
homework: do backlinks investigation
11-12 minutes discussion
Materials:
http://www.genochoice.com/
computers, one with a projector
Red Flag Chart (see discussion, below)
Introduction
The site being investigated is Genochoice.com
The Search Method being applied is "finding backlinks" (incoming links to a page from another site).
Demonstrate 3 ways to find backlinks. Explain how backlinks serve as external references for a site and it is important to gather opinions of writers other than the author of the site being investigated. Getting several other opinions is called triangulation. Provide a link to step-by-step instructions for backlink query, e.g., http://newmedz.com/first-aid/linkcheck-1.html
Method 1: link:http://www.genochoice.com (not as powerful as it once was)
Method 2: http://www.genochoice.com -site:www.genochoice.com (finds examples of the hyperlink on sites other than genochoice.com
Method 3: (Deep Web) Ue Google to find link search engines. One of these (free) is opensiteexplorer.org. This returns many more results for an external search of genochoice.com than Methods 1 or 2. However, there is a daily limit to how many links searches you may do for free and you may discover that multiple searches from the school IP address exhaust your free searches quickly.
Home Work
Have each student spend 15 minutes outside of class doing one or more backlink searches. Driving questions are: Why does this site link to genochoice.com? By linking, does this external link support or discredit the information on genochoice.com?
Discussion
When students return, follow up the backlink search activity with a discussion of findings and their implications.
It may be helpful to create a Red Flag Chart with three columns: Accused | Suspicious | Acquited (or similar terms). Place the findings in the appropriate column. Red Flags may travel from one category to another as a result of investigative activity. Furthermore, students may not agree on where to place a Red Flag, which makes for a good discussion starter.
As a result of backlinks, should the information on genochoice be trusted?
If you want to probe deeper, ask: Did the external sites get it right? Why would an artist-medical keynote speaker-PhD candidate-webmaster create such a hoax site? Wouldn't that hurt his reputation?
Why do you think genochoice.com was created?
Did any new Red Flags appear?
Did any Red Flags disappear?
Discussion may lead to a number of interesting hypotheses, which may be further investigated in another session, or assigned.
Genochoice looks less and less like a hoax site the more it is investigated.
ISTE MODEL LESSON
ready-to-go mini lesson
LESSON 1
"Think Aloud" Demonstration
Time: 10-15 minutes as follows:
5 minutes think aloud
5 minutes search as individuals
5 minutes collect findings
Materials:
http://www.genochoice.com/
computers, one with a projector
whiteboard or Red Flag Chart
It may be helpful to create a Red Flag Chart with three columns: Accused | Suspicious | Acquited (or similar terms). The findings in this mini lesson will all likely go in the Suspicious column. However, Red Flags may travel from one category to another as a result of investigative activity. Furthermore, students may not agree on where to place a Red Flag, which makes for a good discussion starter.
Think Aloud
This lesson takes place in the context of a science course where DNA, genetics and "designer babies" is the topic. It is used here for demonstration purposes–any topic could be used and substitute an appropriate "questionable" result.
Among results for "designer babies" is this Genochoice.com
Use this site to demonstrate how an investigative searcher might approach the material. Students need to see an example of good searching in practice. Focus on Authorship in this instance. Open the page and browse to find information about who wrote this or is responsible for its content. As you search, note the credits link on the page.
Click this and point out information about the credits: Virgil Wong. Also note that this is not what you expected to find: a medical site written or designed by an artist and performance credits for several other people. Point out that now you have some good keywords to fact check. Proper nouns make good fact checking terms because they are so specific, so unique.
Start a list of things you find out about Virgil Wong. We have one Red Flag (he's an artist, not a medical expert?) Then have the students try fact checking Virgil Wong to discover "as much as they can" about this person. Everyone is free to search for information about Virgil–the more eyes looking for information the better.
After five minutes, call an end to searching and begin to collect information from the students. This may be done on a whiteboard, sticky notes or any online app that is made for group collaboration. Or you could call on students to report what they found, trying to get as complete a picture of Virgil Wong as possible.
Among the findings possible, he is:
a web designer
featured in a TED vdeo
a PhD candidate in cognitive science
an artist
a keynote speaker at medical conferences
a pregnant man
etc.
Discuss
Is thisreally the profile of a person you think would be the author of a credible site on "designer babies?" Why? Why not? (answers to Why Not are "Red Flags").
If we start to find Red Flags associated with online information, we need to be skeptical and not believe claims on the site without checking them out. More about Red Flags
Encourage students to do this type of investigative searching on other sites they come across while doing research.
In a new paper written by Darrell M. West, the Vice President and Director of Governance Studies at the Brookings Institution, How Blogs, Social Media, and Video Games Improve Education, looks at the effect of collaboration on education when students can use tools such as wikis, blogs, social media, and video games.
The author, Darrell West, cites Alan Daly of the University of California at San Diego who believes that education "is moving away from large-scale prescriptive approaches to more individualized, tailored, differentiated approaches."
In considering the effect of social media on education West asks a series of questions:
How do these technologies affect students, teachers, parents, and administrators?
Do they enable new approaches to learning and help students master substantive information?
In what ways have schools incorporated electronic communications in the learning process and messages to external audiences?
Blogs
Blogs represent a rapidly growing medium that encourages students and teachers to participate in their education. Currently, Nielsen estimates that there are over 156 million blogs on the Internet. Blogs are one of the most prevalent and accessible modes of communication. Many people feel that blogs have democratized the flow of information. They are also used in the classroom as a way for students to collaborate and communicate with other schools.
Unfortunately, there are still a number of schools that do not encourage two-way communications, students collaboration, or global networking within the school. Alan November of November Learning suggests that students need to be globally empathetic to become a global citizen.
There are a number of blogs that deal with the skills of education so teachers and administrators can work with their colleagues and share ideas on finance, assessment, standards and many other topics.
Wikis
A Wiki is a website in which a variety of people can participate and collaborate on constructing the material of the site. Once somebody has started the site other people can edit and make additions. The interactions are a type of collaboration called "crowd-sourcing" which is a term created by Jeff Howe of Wired Magazine.  Wikis have been created by both corporations and schools to help develop creative ideas and design.
Social Media and Mobile Devices
Social media basically includes anything that allows people to communicate in discrete groups over collective interests. People have the opportunity to express themselves and react to what other people have said and have people respond to what they have written. It allows for a variety of people from all over the country and other countries to share ideas and share information. The Pew Internet and American Life Project survey reports that Facebook is a major source of discussion. Twenty two percent of its users comment daily on somebody else's post.
There are many K-12 schools and colleges that utilize social media to extend the classroom walls. Education becomes 24/7. In some situations the social media is open to people from other countries and a wider set of comments and opinions are expressed. The knowledge of the community becomes vital.
Video Games
Video games are one of the largest consumer items in the commercial world. They are one of the most popular forms of mass entertainment. They bring in hover billion-dollars a year. The Pew Internet and American Life Project survey of American teenagers revealed the eight most popular game genres:
| | |
| --- | --- |
| Racing | 74% |
| Puzzles | 72% |
| Sports | 68% |
| Action | 67% |
| Adventure | 66% |
| Rhythm | 61% |
| Strategy | 59% |
| Simulation | 49% |
For example, in the game, World of Warcraft, there are some 12 million users who have logged over 50 billion hours playing the game.
Many video games are made for both the entertainment and the education world. There are many skills and concepts that can become clearer through the game medium. Games have been used in the education areas of geography, science, mathematics, English, and logic. According to the scientists at the National Research Council, games "enable learners to see and interact with representations of natural phenomena that would otherwise be impossible to observe – a process that helps them to formulate scientifically correct explanations of these phenomena."
Conclusion
The authors conclude: "Digital tools represent new ways for participation, engagement, and collaboration to take place. Through digital communications, students, teachers, parents, and administrators can share insights and reactions and develop a better understanding of instructional activities."