Sheryl Sandberg, COO of Facebook, and Tim Cook, CEO of Apple, alongside a dozen other executives of major tech companies, met with Republican president-elect Donald Trump Wednesday to discuss jobs and the economy.
What ever happened after this meeting? Has any of these companies actually changed what they are/were doing?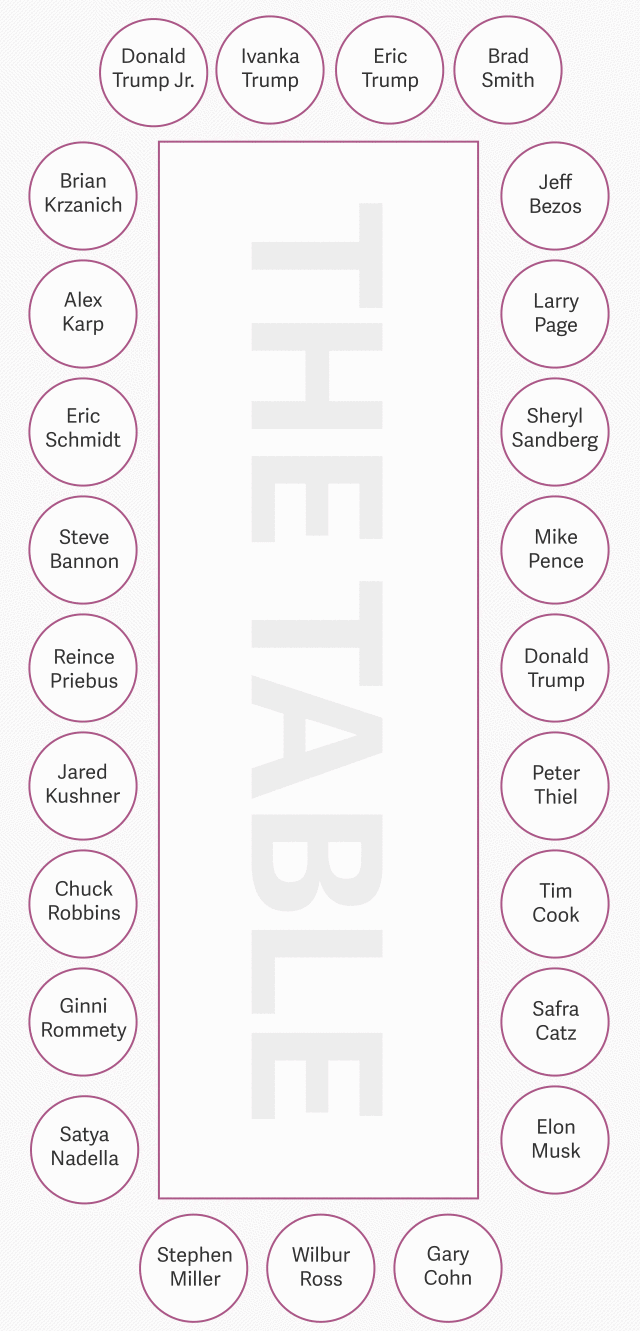 Image Credit: Quartz.
Trump was relatively quiet about his plans for education while campaigning, but during the sit-down meeting at Trump Tower in New York City, a conversation about STEM (science, technology, engineering and math) education unfolded.
According to various reports, invitations were also extended to:
Jeff Bezoz, Amazon CEO;
Safra Katz, Oracle CEO;
Alex Karp, Palantir CEO;
Elon Musk, Tesla CEO and product architect;
Satya Nadella, Microsoft CEO;
Larry Page, Alphabet CEO and Google co-founder;
Eric Schmidt, Alphabet executive chairman and former Google CEO;
Chuck Robbins, Cisco CEO; and
Ginni Rometty, IBM CEO.
Peter Thiel, founder of PayPal and other companies and a member of Trump's transition team, was also in attendance and sat next to the president-elect. Notably, Twitter CEO Jack Dorsey was not at the meeting.
Recode reported that meeting attendees talked about developing fairer trade deals and creating jobs, emphasizing the importance of innovative technologies, like automation and advanced manufacturing. Cook brought up President Obama's work to advance STEM education in K–12, including national computer science initiatives, stressing STEM's impact on the U.S. economy. Additionally, Sandberg pushed the importance of STEM education for women and underrepresented minorities in the tech industry.