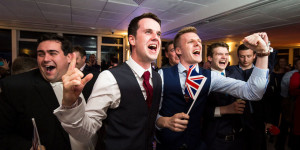 On June 24, 2016, British citizens woke up to a brand new world. In a stunning upset, the United Kingdom voted to leave the European Union, becoming the first major country to voluntarily exit the EU. The final tally–roughly 52% voted to leave, 48% to remain–reflected a country starkly divided by political beliefs.
On social media, many young people bemoaned that their future had been determined by a older generation, given that a poll released on the same day indicated that 75% of people between the ages of 18-24 voted to remain.
Follow
Ben Riley-Smith ✔ @benrileysmith
HOW AGES VOTED
(YouGov poll)
18-24: 75% Remain
25-49: 56% Remain
50-64: 44% Remain
65+: 39% Remain#EUref
3:24 PM – 23 Jun 2016
38,451 38,451 Retweets 18,717 18,717 likes
Here, 10 British citizens under the age of 40 explain the reasons behind their vote.
Alex Hawley, 27, Trainee Solicitor. I voted Remain.
Alex Hawley
The EU provides an extra tier of protection against our own government. Human rights protection has not fallen away with Brexit, but protection for us as consumers, employees, and members of various underrepresented or vulnerable groups is at risk.
Guy Laurence Dunkley, 26, Salesman. I voted Remain.
Guy Laurence Dunkley
I am fully aware of the European Union's faults. For starters its institutions are plagued with inefficiency and accountability problems and that isn't even beginning to mention its mismanagement of the refugee crisis. Apart from the purely selfish reasons such as my pay being in pounds and my soon-to-be-born half-Dutch niece, I feel our membership was important for symbolic reasons. Britain has always faced outwards to the world and building stable relationships with our European neighbors has been our biggest diplomatic success over the last 50 years. I feel we have turned our back on our natural allies and displayed a frankly nasty, ignorant and fearful side to our national character. I fear the vote will result will result in the breakup of the UK and over 300 years of shared experience, learning and overall achievement.
Anthony Boutall, 28, Director of Executive Search Company. I voted Leave.
Anthony Boutall
I am so glad that Britain has voted against the scaremongering and defeatism of the Remain campaign, instead choosing to re-claim democratic self control and re-energize our global vocation. Inside the EU's customs union, we have missed out on global free trade deals, waiting at the back of a queue of 27 other countries who rarely agree unanimously on the minutia of detail in those trade agreements. Outside the EU, we can make the most of our global links, language, and world-renowned services industry. Inside the EU, we have been forced to accept lawmaking from an unelected body in another country. Only now, outside the EU, will the buck stop in Downing Street and with democratically elected leaders. This is a common bond between English speaking cultures, and one that we should be ecstatic to reignite.
Matt Graham, 37, Screenwriter. I voted Remain.
Matt Graham
I believe in the European Union: a group of millions of people who come from different cultures and yet still manage to co-operate with one another. Personally, I also feel European, of British extraction, part of a greater whole: the family of European nations. I don't believe that Nationalism is the answer for the UK, which is a country made up after all of four different nations itself – nations that have succeeded in co-operating with each other over the centuries. I believe in the need for co-operation in an increasingly multicultural world, where nation states are less important. I believe in the need to stamp out intolerance and racism, and most seriously of all, I believe in the need for us to co-operate in a world in which global warming and resource scarcity are the single key issues that face all mankind. The more I travel in the world, the more I learn one single lesson: that people are the same, and that its only by co-operation that we succeed in overcoming the dangers facing us. That's why I voted Remain – and even after yesterday, I Remain hopeful.
Brogan Kear, 26, Office Assistant. I voted Leave.
Borgan Kear
The EU and Europe are vastly different things. I adore Europe, which is precisely why I am so frustrated by what its Government is doing to it. The EU is a many-layered Governmental system, not a warm and fuzzy feeling of co-operation and love among European neighbors.We are not fighting against the concept of harmony between European nations and people- quite the opposite. We are fighting against a Parliament in which the representatives we *do* elect have no power to propose or repeal legislation. We are pushing for individual countries to be able to control their own economies. This is a positive vision of democracy and self-determination for all countries, not some spiteful act of self-isolation. It is not a protest against unity and co-operation, but a protest against the notion that "one size fits all" in terms of policy being applied to vastly different countries with vastly different economies and political climates. I believe in every country's right to govern itself. I believe that when we sell more to the EU than they sell to us.I believe that an immigration system favoring people with European passports while making it difficult for talented people from the Commonwealth and elsewhere is unfair. I believe in our ability to take any legislative ideas from the EU which are beneficial to society and apply them voluntarily, and I believe we should have the right to say "no" to laws or regulations which are restrictive or damaging to businesses and industries in this country. I believe in the successes of Norway and Switzerland, who have rejected the EU and flourished. I believe that the claims that we are leaping into the "unknown" are easily disproved by the fact that the majority of the world's countries have never been in the European Union and are managing just fine. I believe in Britain, and I believe in Europe.
Neil King, 36, Criminal Barrister. I voted Leave.
Neil King
I did so because, the referendum having been called, if we voted to stay the EU would have seen that as a rubber stamp for further federalism and would have ignored the traditional British threat of "our people want out, so give us what we want or else" that we've been deploying for years. I also think the 20th century customs union is not a model for the 21st century. Being in the EU inhibited our ability to trade with Africa, China, India and the US. I am also concerned by unbridled Eastern European migration. It has completely transformed the nature of market towns in the East of England, as reflected by their strong out vote.
Calum Fleming, 25, Writer/Actor. I voted Remain.
Calum Fleming
I voted to remain in the EU because I believe that in a smaller world you have to think bigger than your borders. When I am in Glasgow, I am reminded I am from Edinburgh. When I am in England, I am resolutely Scottish. When I am in Europe, I am sure to tell people I'm British. When I am in America, I think of myself as a European. I feel that really we are all human beings, we all deserve equality and we all deserve a good chance. Sure, the UK may have a strong economic standing that attracts immigration, but this equation that immigration equals less for the current population seems to ignite in many some old imperialistic and nationalist views. In contrast, I voted to leave the UK when the Scottish referendum happened and it was for exactly this reason. I felt that rural England is drowning out the progressive views that Scotland has. Really it's like we're being held back by readers who don't know the difference between an EU migrant, a non EU migrant and a refugee. One has free travel, one has to combat a tier system, and one has to flee from wars that we started. To every Leave voter I have spoken to, they are the same- immigrants. The main reason I voted to remain is because I see a brighter future where countries all work together for the benefit of the human race, and not just for themselves.
Kate Bramson, 24, Political Consultant. I voted Leave.
Kate Bramson
For me, I believe that as a country we should be looking worldwide, seizing the opportunities which the world has to offer. Since the referendum was put to the public, I have questioned what our future prospects will be both in the EU and outside. The deal which Cameron had struck did not go far enough on reform and that for me was the biggest barrier to our future.
Will Abberley, 31, University Lecturer. I voted Remain.
Will Abberley
This is one of the worst days of my life. For three years I've been worrying about this referendum ever since Cameron promised one and today, finally, my fears have been realized. But judging by the attitudes of many (particularly older) Brexit-voters, no one seemed to realise the national suicide this was going to be. It was like a combination of mischievous nose-thumbing at the establishment and ridiculous imperial nostalgia. Like when a semi-senile grandparent tells you no one used to lock their doors when they were young and the sun shone brightly every day, and you're just like, uh-huh, OK, grandad, whatever – except now that has actually become the official government strategy for the future. There is no plan, nothing. Boris is a complete hypocrite chancer who rode the coat-tails of this Brexit mania in the hope becoming PM. I am really, seriously worried about the future. Like, 1930s worried.
Meredith Lloyd, 28, Political Researcher. I voted Leave.
Meredith Lloyd
The reason I voted (and have campaigned for several years) for Britain to leave the European Union, is the love I have for my country, and my belief we have a role to play in the world and not just Europe. After over 40 years of membership, it is time to unshackle ourselves from a political project that has become protectionist, introspective, and unfit for purpose. The EU's vision for the future, of further and further political, social and financial integration, was increasingly at odds with British values. Outside of the E.U., British people will be free to govern themselves again, our business will be freer to trade more globally, not merely with the near continent, and Britain will be able to strengthen and forge new trade and diplomatic relations with neighbors across the world, whist maintaining the close and important ties with our friends in Europe. This is not a question of pulling up the drawbridge or isolationism, it is about broadening our horizons. The British people have rejected the nay-sayers who say we are too small to make it alone. This is a victory for courage, democracy, and freedom, and above all is a new opportunity. We have said "No and Goodbye" to the European Union, but we still say "Yes" to the countries of Europe, and now also say "Hello" to the wider world.