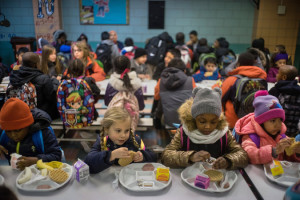 Brooklyn Arts and Science Elementary School is one of seven New York City public schools taking part in an Education Department initiative aimed at maintaining a racial and socio-economic balance at schools in fast-gentrifying neighborhoods. Credit Todd Heisler/The New York Times
How white is too white? At the Academy of Arts and Letters, a small K-8 school in Brooklyn founded in 2006 to educate a community of "diverse individuals," that question is being put to the test.
The school — along with six others in New York City — is part of a new Education Department initiative aimed at maintaining a racial and socioeconomic balance at schools in fast-gentrifying neighborhoods. For the first time the department is allowing a group of principals to set aside a percentage of seats for low-income families, English-language learners or students engaged with the child welfare system as a means of creating greater diversity within their schools.
The continuing segregation of American schools — and the accompanying achievement gap between white, middle-class students and poorer minority children — has become an urgent matter of debate among educators and at all levels of government. Last week, President Obama lent his weight to the issue when he included in his budget a $120 million grant program for school integration aimed at de-concentrating poverty.
Sandra Soto, the principal of Brooklyn Arts and Science, is allowed to set aside 20 percent of her seats for English-language learners and children in the child welfare system. Credit Todd Heisler/The New York Times
In New York, Mayor Bill de Blasio and Carmen Fariña, the schools chancellor, have disappointed school diversity advocates by failing to make integration a priority. The set-asides plan, approved by Ms. Fariña in November, was the first attempt at addressing the issue across multiple schools.
All of the schools involved enroll children by lottery, rather than having a school zone.
In its early years, Arts and Letters was more than 90 percent black and Hispanic, reflecting the Brooklyn neighborhoods around it, including Bedford-Stuyvesant, Clinton Hill and Fort Greene. More than 80 percent of its students qualified for free or reduced lunch.
But the school gained a reputation for its humanities curriculum, its science lab and its focus on the arts. And newcomers changed the demographic mix of its surrounding blocks. In Bedford-Stuyvesant, Clinton Hill and Fort Greene, the white population rose 120 percent from 2000 to 2010 and the black population fell by 30 percent, according to the Center for Urban Research at the Graduate Center of the City University of New York.
Now, Arts and Letters has become one of Brooklyn's hottest schools. Half of the school's kindergartners are white; a mere 12 percent qualify for free or reduced lunch. That has its principal, John O'Reilly, worried.
"I love the fact that so many white affluent families would want to send their children to my school," he said recently, before rushing off to give another tour. "But I know the impact it has on the diversity of my school."
Mr. O'Reilly is one of a group of principals — including Julie Zuckerman at the four-year-old Castle Bridge School in Washington Heights in Upper Manhattan, where 21 percent of the students are white, and Arthur Mattia, who recently retired from the Children's School in the Gowanus area of Brooklyn, where the student population is now 59 percent white — who said they had hoped to create schools where no one race or socioeconomic group was dominant.
Instead, their schools are becoming magnets for middle-class families moving into gentrifying neighborhoods who prefer them to their local zoned schools. The principals are concerned that their schools will "tip" over into majority white, middle-class schools.
They hope the new program will help them maintain more balanced populations.
Ms. Soto, second from right, at a conference with parents. Ms. Soto says the level of integration at Brooklyn Arts and Science so far is encouraging, giving all her students a broader understanding of the world around them. Credit Todd Heisler/The New York Times
"This is a very important step," said David Tipson, the executive director of New York Appleseed, which works to create more integration in city schools. "This is the first time that this D.O.E. — under de Blasio — has begun truly addressing the effect gentrification has on our schools."
In 2014, the Civil Rights Project at the University of California, Los Angeles released a study showing that New York City has one of the most segregated school systems in the nation. That and discomfort among educators and activists about the high number of racially and economically isolated schools in the city has generated intense discussions about integration.
But educators in New York and across the country are not in agreement about what integration should look like. In 2007, a United States Supreme Court ruling declared school sorting by race unconstitutional in two school districts, Seattle and Louisville, Ky.
Around that time, under Mr. de Blasio's predecessor, Michael R. Bloomberg, the department discontinued a "controlled choice" plan in District 1, in Lower Manhattan, designed to create diversity in schools. Racial set-asides were done away with at the Brooklyn New School in the 1990s, when race-based admissions were coming under fire nationally.
In 2013, the city approved a plan that allowed Public School 133 in fast-gentrifying Gowanus to set aside seats for English-language learners and students who qualify for free or reduced lunch. Those criteria are generally used as proxies for race in trying to achieve integration. Many advocates believed this would lead to more set-aside plans.
That did not happen.
A strong body of research, beginning in the 1960s with the now-famous Coleman Report, suggests that low-income students do better academically when exposed to middle-class ones. Numerous other studies suggest that middle-class students do not see a decrease in achievement when they go to school with poorer students, and may in fact benefit in nonacademic ways.
But how best to integrate remains up for debate.
Richard D. Kahlenberg, a noted voice in the school-integration movement and a senior fellow at the Century Foundation, posits that low-income students do best when they are in schools that are majority middle class.
Julie Zuckerman, the principal of the Castle Bridge School in Washington Heights, challenges the notion that her school needs a large percentage of middle-class families to turn it into a successful place of learning. Credit Bryan R. Smith for The New York Times
Mr. O'Reilly, the Arts and Letters principal, has accepted that as a benchmark. He will give priority to students who qualify for free or reduced lunch for 40 percent of his seats.
But Ms. Zuckerman, the Castle Bridge School principal, challenges the notion that her school needs a large percentage of middle-class families to be a successful place of learning. "I'm good with 20 to 25 percent," she said.
At Castle Bridge, students from households in which a family member is incarcerated get priority for 10 percent of the seats, and low-income students get priority for 60 percent.
The principals say the set-asides are needed, because once a school is viewed as desirable by middle-class families, their networking capabilities and social capital are far more powerful than any outreach the schools can do to attract lower-income families. All it takes, they say, is a few posts on Facebook, some word of mouth at cocktail parties, preschool fund-raisers and neighborhood playgrounds for a school to be inundated with applications from high-earning families. Those can far outnumber the ones coming from lower-income minority families, so even though seats are given out by lottery, the population can quickly shift.
"There is a number of families," said Sandra Soto, the principal of Brooklyn Arts and Science Elementary School, in Crown Heights, Brooklyn. "I don't know what that number is exactly. It doesn't have to be a lot. But then you become the next place." In 2012, Ms. Soto took over a failing school that had been more than 95 percent black and Latino, renamed it and overhauled the curriculum.
This school year, around 15 percent of the population is white and more than 5 percent is Asian. Last year, it had a Parent Teacher Association president who was white.
Principals at these schools say they know that middle-class families often bring with them higher test scores, making the schools look better on paper. But several added that chasing test scores was not what had drawn them into education.
Sean F. Reardon, a professor at the Stanford Graduate School of Education who specializes in poverty and inequality, said it was a mistake to blame middle-class white parents for wanting the best schools for their children, even if the cumulative effect tipped the racial balance. The answer, he said, needs to be systemic, with the city's creating scores of schools designed to be diverse in much the same way the Bloomberg administration developed small schools.
"We know it can be done," Mr. Reardon said.
Administrators at the seven pilot schools say they are all motivated by their belief that classrooms that are racially and economically diverse are good for students, according to recent research, maybe even making them brighter.
Takiesha Robinson, the mother of a third grader and a pre-kindergartner at Ms. Soto's school, said she appreciated the access her third grader had gotten to white and Asian families since the school reopened. Ms. Robinson, who is black, says her daughter now knows about Hanukkah, understands what a menorah is and knows the difference between being Pakistani and Chinese.
"I can really, really see the difference," she said.
Still, Ms. Robinson and other parents said they did not want to see the school "turn all white."
For some white parents at the school, that is understandable.
Emily Cowan, a freelance artist and social worker, said she was willing to even sacrifice her own kindergartner's slot next year to "preserve that diversity," though it would mean sending her son to a different school next year.
For others, it is a bitter pill.
The idea of keeping the school diverse "totally jibes with my politics," said Mark Schwartz, the owner of a liquor store in Prospect-Lefferts Garden, Brooklyn, who also has a kindergartner at the school. "But what if it means we lose out on this opportunity?"
Correction: February 19, 2016
An article on Wednesday about an initiative by New York City's Education Department aimed at maintaining a racial and socioeconomic balance at schools in fast-gentrifying areas included outdated information about Arthur Mattia's connection to the Children's School in Brooklyn, one of the seven schools taking part. Mr. Mattia is a former principal, not the current one. (He retired in January.)