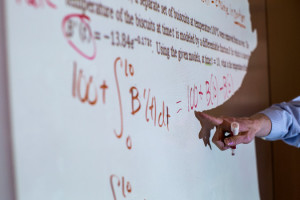 A math class at Match Charter School in Boston, which is doing a lot of test prep for the SAT. Reading passages will be harder and math problems wordier in the new test. Credit Shiho Fukada for The New York Times
Is it unfair to some students that the redesigned SAT, being rolled out next month, will include longer and harder reading passages and wordier math problems than before? Anemona Hartocollis's article on the topic drew more than 900 responses from readers.
Some stressed that college admissions tests, by their very nature, should winnow out weaker readers.
"Why would you want to accept students who can't read and write at a college level regardless of their background?" asked Ed H. of Irvine, Calif. "Instead of complaining about the idea that it is unfair to certain students, why not make sure those students are better prepared? If the poor can't read as well as the rich, then that's the problem that needs to be addressed." His comment was the most recommended by other readers.
Some readers zeroed in on a sentence in the article that noted educators "fear that the revised test will penalize students who have not been exposed to a lot of reading, or who speak a different language at home — like immigrants and the poor."
Ed Bloom, from Columbia, S.C., wrote: "I'm a reading specialist. I went nuts. Let's not penalize people who haven't been exposed to a lot of driving by flunking them on the driving test. Let's not penalize the pilot of our jet liner by keeping him out of the cockpit just because he hasn't been exposed to a lot of flying. The correct way of thinking about all of the above is not to think of it as penalizing but, instead, a need to get that person the experience. … There are lots of ways to get children 'exposed' to reading."
Adam from New York wrote: "You could call it 'penalizing students who have not been exposed to a lot of reading.' Or you could call it 'evaluating students' reading skills.'"
LindaP in Boston countered with a personal story. Her son is dyslexic, and he found the SAT tough. "The comments here make my blood boil," she wrote. "'Who wants a kid in college who can't read proficiently?' 'Prepare them better.' 'Perhaps these kids aren't college material.' Life and learning is not a straight line, and these tests take many different kinds of learners and pigeonhole each and every one of them." Her son, she noted, is now an M.D., Ph.D. with a specialty in hematology.
A commenter under the handle R-son from Glen Allen, Va., said his stepson, who is better in math than reading, would soon be taking the test. "The new SAT will be hard for him, but he has an advantage over other students — an $800 Kaplan prep course. So it boils down to this — he'll score better on the SAT than a lower-income student with the same abilities whose family can't afford to fork out close to 1K to prep for and take this test. So how is this test, in any form, fair?"
A few commenters critiqued the sample of five math SAT questions that accompanied the article. Ninety-three percent of readers answered the first question in the quiz correctly; 57 percent answered the fourth question correctly. Of an algebra problem about a phone repair technician, a reader using the name Kathy, WastingTime in DC wondered, "Who gets a phone fixed these days?"
One reader, who admitted she answered only one of the five problems correctly, pointed to a question about a pear tree. Gabrielle from Los Angeles wrote: "I am a horticultural therapist who designed and built a therapeutic garden. Here's the answer to figure out which pear tree to buy: use your relationships. Ask your friends what they've had success with. Call me crazy but after I left high school, I never took another math class, and it's never held me back."