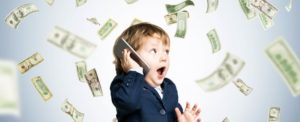 This is a repost of an article that appeared on EdSurge
Santa proved a little more parsimonious to U.S. edtech companies, which altogether raised an estimated $1.03 billion across 138 venture deals in 2016. Those tallies dipped from 2015, which saw 198 deals that totalled $1.45 billion. (Or, from a different perspective, U.S. edtech companies raised roughly 57 percent of what Snapchat did in its $1.8 billion Series F round.)
In this annual analysis, EdSurge counts all investments in technology companies whose primary purpose is to improve learning outcomes for all learners, regardless of age. This year startups that serve primarily the K-12 market raised $434 million; those targeting the postsecondary and corporate learning sector raised $593 million.
Since 2010, venture funding dollars for U.S. edtech startups have increased every consecutive year. It's worth noting that even though 2016 marked the end of this trend, the dollar total still surpasses the years before 2015.
The downturn isn't specific to the education industry but rather reflects a broader slowdown across all technology sectors, says Tory Patterson, managing partner at Owl Ventures. "There's a broader shift in venture capital where there's less exuberance companies that haven't really nailed the business model," he tells EdSurge.
Dealflow dips has also been felt in the health, real estate, construction and financial technology sectors. Across the globe, venture deals returned to 2014 levels, according to CB Insights. The market uncertainty has led some high-profile companies to hit pause on bigger plans. SoFi, which offers loans and other student services, pushed back plans for its initial public offering this year. Pluralsight, an online learning company that was also expected to IPO, is also on hold.
Venture-backed startups tend to swing between two spectrums, says Amit Patel, a partner at Owl Ventures. On one end are businesses "that grow aggressively but have no revenue associated. The other are those laser focused on business model and revenue. The mood is swinging towards the latter."
Commitments to "impact" or "mission" aside, all investors—even in education—want to see returns. Often that means converting users into dollars.
"We've noticed VCs becoming more selective about their education investments, asking more questions about revenue growth and the leading indicators of product adoption, implementation timelines and ultimately usage," says Jason Palmer, a general partner at New Markets Venture Partners. Unlike Instagrams and other "5-year consumer internet hits," more investors, according to Palmer, now realize "it can take 10 or 15 years to build a sustainable education business."
Breaking Down the Numbers
As in previous years, companies offering tools in the postsecondary and "other" categories out-raised other products. ("Other" includes a mix of products that help business professionals develop skills, are aimed at parents, or are not used in K-12 or higher-ed institutions.)
Expect this trend to continue, says Palmer, as investors come to "a greater recognition that higher education institutions adopt and implement more rapidly than K-12 [schools]." Tuition dollars may be one reason why they have adopted technologies such as student retention and predictive analytics platform. "Colleges and universities are facing financial pressures to keep students who contribute to their revenues. In K-12, you don't have the same urgency of students as revenue drivers," he suspects.
This year saw no mega-rounds for startups in the postsecondary sector—unlike 2015, which saw HotChalk, Udacity, Udemy, Coursera and Civitas Learning account for more than $520 million of funding. (Udemy did lead this pack in 2016 with a $60 million round.)
In fact, the biggest funding round of 2016 for a U.S.-based startup went to Age of Learning, which raised $150 million and accounts for 55 percent of the funding total for K-12 curriculum products. The Glendale, Calif.-based company is the developer of ABCmouse, a collection of online learning activities aimed for young children. First developed for the consumer and parent market, the tool is attempting to make headway into schools and classrooms.
Choosier Angels
Angel and seed level funding rounds, which signal investors' interest in promising but unproven ideas, saw a small decline as well. The 66 deals at this stage are the lowest since 2011, although they totaled $62.5 million—roughly on par with 2014 levels.
Over the past five years, the average value of seed rounds has been increasing, from around $600K in the early years of this decade to roughly $1 million in 2015 and 2016. Discounting edtech accelerators, which typically invest $20K to $150K in startups, the 2016 seed round average actually surpasses $2 million. (We counted 28 such publicly disclosed seed rounds totaling $60.2 million)
Fewer but bigger seed deals are "a sign of maturation in the industry," says Shauntel Poulson, a general partner at Reach Capital. Unlike previous years, where upstarts and ideas popped up the market, she believes the market is currently in a "stage of consolidation where leaders and proven ideas are emerging."
Aspiring entrepreneurs ought to pay heed. What this means is that "the bar for seed rounds is getting higher," Poulson adds. "Before it was about a promising idea and a great team. Now you need to show more traction and even some revenue." Over the past few years investors have learned that "it's best to focus on business model sooner rather than later."
Palmer believes the days where startups could raise money before making some may be over. Expect to get grilled over "revenue growth, product adoption, implementation timelines and ultimately usage," he says. To round out the questions, "VCs are also starting to ask about product efficacy."
Looking Ahead
Unsurprisingly, investors held a cheery outlook for 2017, expecting funding totals to hold steady or even increase. More companies will be able to demonstrate sustainable revenue, predicts Owl Ventures' Tory Patterson, and in turn woo investors' appetite. "We think a lot of companies will be able to hit the $10 million revenue milestone."
Emerging technologies such as artificial intelligence, augmented and virtual reality could drive further investments as their applications to help improve learning outcomes become clearer. Also expect to see Chinese investors paying closer attention, says Poulson. "There's a big after-school market [in China] and an opportunity to leverage a lot of the content that's being developed in the U.S."
There's also word on the street that several education-focused venture firms have re-upped their coffers with new funds to support proven, maturing startups. Stay tuned for more details.
Disclosure: Owl Ventures and Reach Capital are investors in EdSurge